World Energy Forum 2012 was held on October 22-24 at Dubai International Convention and Exhibition Centre, United Arab Emirates, under the patronage of His Highness Sheikh Mohammed bin Rashid Al Maktoum, Vice President and Prime Minister of the United Arab Emirates and Ruler of Dubai under the theme of Safe, Accessible, Sustainable Energy for All with the following statement of purpose:
The United Nations has designated 2012 as the International Year of Sustainable Energy for All, and as an Energy Access Campaign platform, world leaders from governments and private sector institutions from the United Nations Member States will be gathering at this high-level international conference in Dubai, in the United Arab Emirates, to focus on providing universal access to basic energy services that will benefit all nations and peoples, and to chart a roadmap for a sustainable global energy system that can fuel economic and social development worldwide.
World Energy Forum 2012 attracted a large number of major international media and more than 24 heads of states and more than 60 ministers, and ambassadors and diplomatic missions led more than 3,000 delegates from 89 countries; many international organizations have participated including the United Nations, World Bank, African Union, and Arab League. In addition, exhibitions and country pavilions were attended by thousands.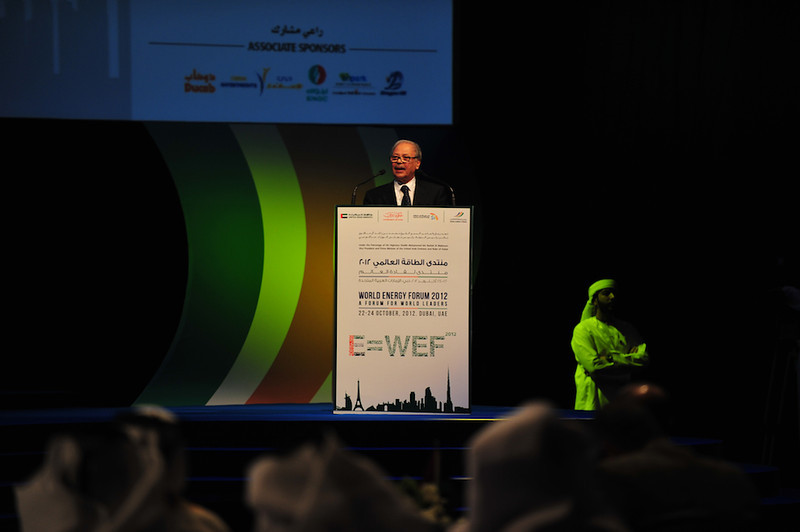 World Energy Forum 2012 generated much enthusiasm when it proposed that the Opening Day October 22 will be annually commemorated worldwide as World Energy Day and the representatives from 60 governments and intern-governmental organizations have signed; it also proposed that energy access should be a fundamental human right of every person and that political authorities and laws of every land must respect such rights. The curtain of World Energy Forum 2012 came down with the adoption of The Dubai Declaration of Energy for All on the Eve of October 24.